From initial contact to the completed project, customer satisfaction is our primary concern. It is our commitment to provide every customer with service that exceeds their expectations. Express Packing & Forwarding, Inc. employs skilled professionals, using quality materials to package for domestic, international, on-site, automotive and military applications. Our experienced personnel also package restricted cargo to meet U.N. regulations. Expertise in transportation, wood packing, and preservation techniques, professionalism, on-time delivery, and customized service have earned Express Packing the loyalty of our clients.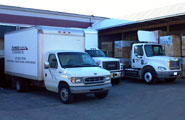 Express Packing & Forwarding, Inc. was founded in January of 1987. The two owners, Mike Athey and John Owens, have a combined experience of over 50 years in the packing and transportation industry. Their philosophy has remained constant from day one, and that is to always exceed the customer's expectations. With a "hands on" attitude, Mike and John have earned the respect and loyalty of their largest to their smallest customer.
From a five person operation in 1987 to our current workforce of over 30 employees and our manufacturing/warehouse facility of 39,000 square feet, Express Packing has continued its dedication to customer service and quality workmanship. With the diversity of our clients products, Express Packing has become an innovator of dependable and practical packaging for domestic and international transit using the most effective packing materials available.